Choir
Discover the sound of Bristol Cathedral
Bristol Cathedral Choir lies at the heart of the worshipping life of the Cathedral, sustaining a pattern of worship that reaches back nearly nine hundred years.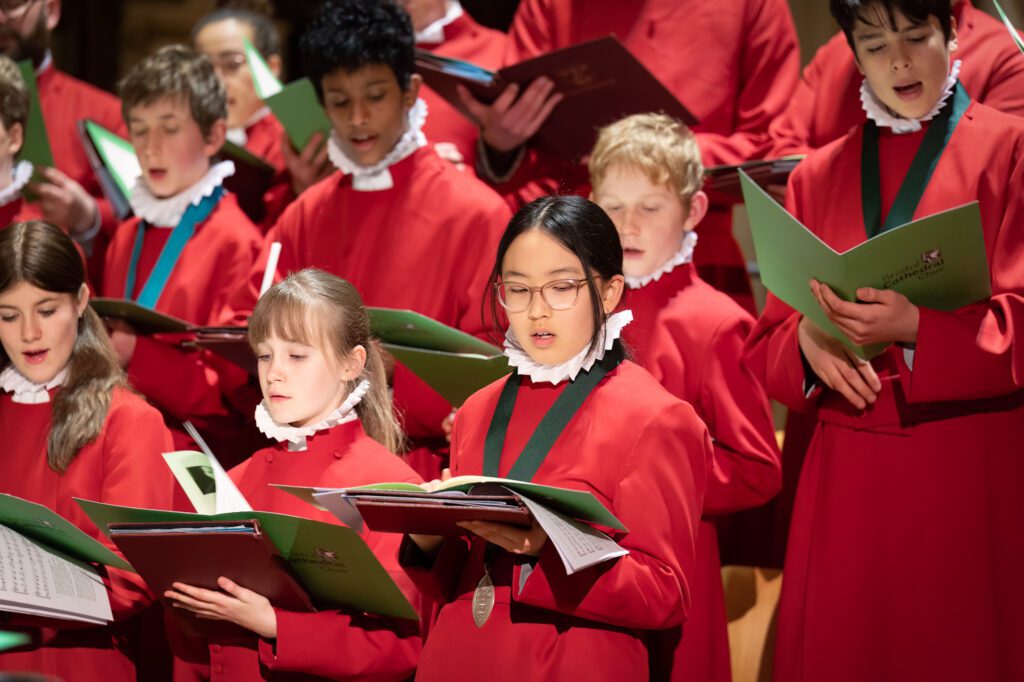 "The hymns and prayers I learned to sing as a chorister have nourished and sustained me ever since, in good times and in bad." – Former Bristol Cathedral Chorister
Choral music is at the heart of worship at Bristol Cathedral. 
The Cathedral Choir consists of Choristers, Lay Clerks, and Choral Scholars. 
In addition to the Cathedral Choir, we have a second choir – the Cathedral Consort which comprises children aged 11-19, who sing one Sunday a month, and other special services through the year.
Find out about our Cathedral Choristers, Lay Clerks, Choral Scholars, and Consort, and how to join them. We are delighted to welcome our Visiting Choirs who sing at Bristol Cathedral outside of term time.
Join the Choir
All our choristers are educated at Bristol Cathedral Choir School, the first government-funded Music and Maths Academy in the country.
Choristers have a rich and full musical life which requires dedication and commitment. They are rewarded with an excellent education, together with financial incentives supported by the Bristol Cathedral Choral Foundation.
We hold a Chorister for the Day taster experience each year, for children who are currently in Year 4. Find out more about this process and how to get involved by downloading the prospectus below.
The "back row" of the Cathedral Choir consists of 10 adult singers. Four of these are Choral Scholars, usually students at the University of Bristol, who sing with the choir for the duration of their degree. Check our vacancy page for details of any upcoming choral scholar vacancies.
The Cathedral Consort not only enhances the worship of the Cathedral, but also provides an opportunity for young people to develop their singing skills to a professional standard. They also enjoy the social side of being part of such a close knit team.
The Consort is open to membership from across the city. It rehearses weekly and usually sings Choral Evensong twice a month. It also collaborates with other choirs in the Cathedral, such as Bristol Cathedral Concert Choir, to perform concerts of large scale works with orchestral accompaniment. The experience offered is particularly valuable to those who wish to apply for choral scholarships at universities like Oxford and Cambridge.
There have been six lay clerks at Bristol Cathedral since its foundation. Check our vacancy page for details of any upcoming lay clerk vacancies.
When the Cathedral Choir is on holiday, our worship is supported by Visiting Choirs who come from all over the world.
Sung worship has been at the heart of this Cathedral Church for nearly half a millennium, and the contribution visiting choirs bring to that long tradition is important. We are grateful to them for the hard work, time, and effort put into their visit, and look forward to welcoming visiting choirs.
If you would like to bring your choir to sing at Bristol Cathedral, please get in touch with the Music & Liturgy Officer.
Get In Touch